It's good to share so here are a few of my previous website designs. Want to see the live version? Just give it a click.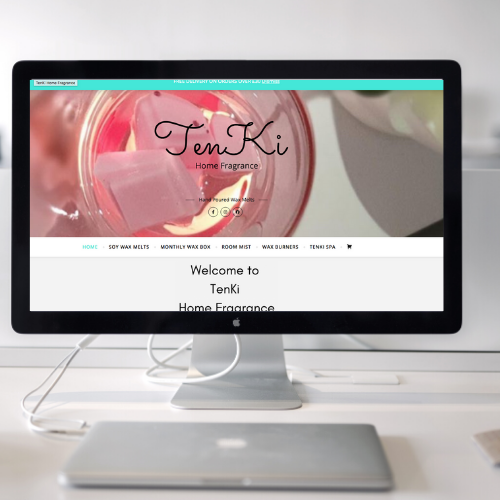 The TenKi Home Fragrance website was a personal favourite of mine to work on as their business is one that I've supported almost from its inception. 
Their previous site wasn't set up for keywords and although being fully functional it lacked some of the design and content that it needed in order to blossom and hold it's own against some of the larger wax melt companies online.
Their new site was set up with function being key and so we took it from a simple shop page menu to a menu with distinct categories so that customers could browse in a structured way. 
An abandoned cart function was included to allow them to contact customers to encourage them to purchase. At their request we included a product scheduler so that their limited edition scents would feature a countdown to availability increasing the anticipation for the new products.
The lovely Lynda approached me to build a website for her business Puppy Dog Tails Academy which provides training for dogs of all sizes and also offers access to a large secure field for walking your dogs. 
Lynda is a confident dog trainer with a fun personality that I wanted to capture in the website and I think you could say that was accomplished with the paw print background.
Lynda was happy for me to run with this project with only one requirement, that the site include a booking system so that clients can book and pay for the paddock hire in advance of their visit. This has proved very successful especially during these times of social distancing.
Aloe Vera Direct Wellness
Network marketing is big business these days with but how do you get your network marketing business seen when so many people are trying to sell the same products? 
It's Simple! Be visible and be different. 
This website is designed to showcase the products that are available in the companies range. Set up as an e-commerce site the buy now button redirects to the MLM supplied sales website allowing orders to be placed and dispatched by home company directly. 
What sets this site apart from the duplicated websites that MLM companies provide is that this site is individual to the business owner and has been optimised for search ensuring that you can get found amongst all the noise.
This site returns a page 2 search result for one of its products from 2,020,000 results. And a page 3 search result from 1,490,000 results. (May 2020)
The Snackeroo website has been built in response to the restrictions placed on business by Covid 19. A local, family run business, they've traded on local markets for 35 years until they've had to stop due to restrictions. They responded to the shut down by offering to deliver to their customers taking orders on a simple form. This soon became extra work and so they decided that a website with an e-commerce function was needed. 
The Snackeroo site has been designed to ensure that orders can only be placed by customers living in the local area that they deliver to. This can be expanded on in the future should they decide to deliver orders by courier to a wider area. 
As most of their customers already know what to expect from this business we've kept the menu to the point using a shop button and a dropdown of categories. This gives the site less of a browsing feel and more of an app feel.
This site was designed for Harts Canine Care in order to really showcase the offering of the business. 
They already had a website but it felt cluttered and didn't really show what the owner of the business was capable of.
We focussed on the owners knowledge and skills and designed a site that reflected her dedication and experience in the industry. Using colours that reflected her branding and love of the colours pink and purple. 
We included calls to action that used the methods preferred by the business owner and encouraged users to get in touch.